Get Involved in QCUSD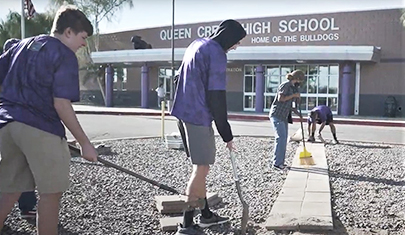 Queen Creek Unified School District (QCUSD) students benefit from quality educators, coaches, counselors, and countless staff members who work together to help them achieve their potential. Our students and staff also benefit from community volunteers who play important roles throughout our district. In QCUSD, we value volunteers, and there are many opportunities to contribute and connect with your local schools.
April 17–23 is Public School Volunteer Week, and we sincerely appreciate and thank everyone who has volunteered with our schools or their non-profit partners to enhance the educational experience in our community. For anyone interested in volunteering with QCUSD, here are some of the opportunities available:
Volunteer in the classroom: All QCUSD schools welcome volunteer participation from the community, whether it's a parent assisting in an elementary classroom or a professional sharing their story during career day. Simply contact the school of your choice for details.
Volunteer to chaperone: Parents can chaperone field trips through their child's classroom teacher. Those who would like to chaperone overnight field trips may visit the district's Volunteer page for details.
Attend a Community and Family Engagement Event: Our C.A.F.E. events are hosted at the District Office once a quarter and bring together non-profit organizations, principals, and volunteers to coordinate projects to help benefit local schools.
Join the Queen Creek Schools Education Foundation: QCSEF raises money to fund student scholarships and teacher grants. Attend their annual drive-in movie or softball tournament, or visit the QCSEF page to learn more.
Join an organization: Join a school's Parent-Teacher Organization or Site Council to help support local teachers and take a leadership role in our community's educational institutions.
Students who attend Queen Creek Schools will become leaders in our community. Whether you attend, live, or work within our district, you can make an incredible impact on our future when you get involved.